Photo Gallery, Page II
More ..........P - I - C - T - U - R - E - S !!!!
I said to keep 'em comin', and you did!! I've recently added this second page to accomodate the additional pictures you guys have sent. If you're not on here, send something in!!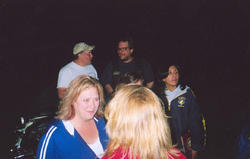 Jodi & Shelly catch up, while Dan Smith and Shelly's boyfriend Joel Mysak, do the same. Peggy is looking for something to do!